Battle of the Sexes review – a great sports biopic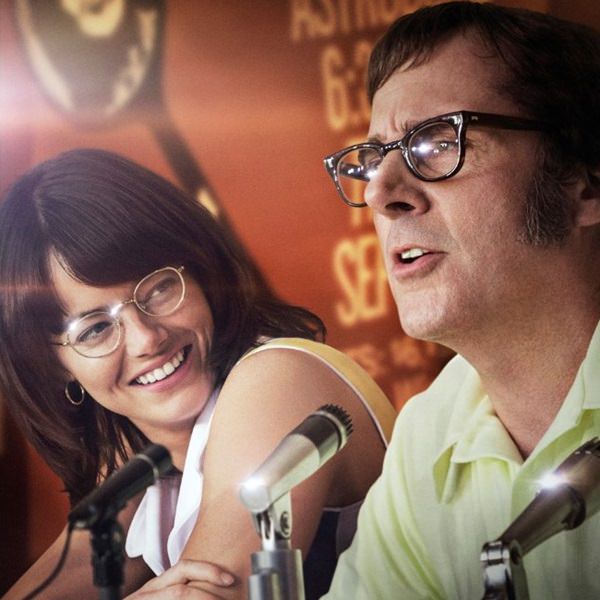 'The true story of the 1973 tennis match between Billie Jean King and Bobby Riggs.'
When done well, there's nothing quite like a good sports movie. Even if you're not a fan of watching men and women engage in physical activities, if filmed and shot in the right way, and given a good story as a background, they can be really entertaining. Battle of the Sexes is the latest in this popular genre, and what's more, is based around a real-life sporting event that challenged the chauvinistic attitude of the Seventies.
Directed by husband and wife duo Jonathan Dayton and Valerie Faris, the story starts with tennis champion Billy Jean King (Emma Stone) demanding and fighting for equal pay to her male counterparts in 1973. Meanwhile, 55 year-old former champion Bobby Riggs (Steve Carell) is down on his luck and struggling with gambling addiction. Missing the glory days, he sees an opportunity to get back in the limelight and challenges King to a tennis match to prove once and for all men are superior when it comes to sport. King accepts, and views this game as a chance to show the world women are just as capable in the so-called man's world, and push for equality and social justice.
This is a good sports film that offers more than a standard underdog story, which many are usually about. In fact Dayton and Faris cleverly steer the story away from the traditional format and structure these kind of movies take, and focuses on the deeper themes of gender equality instead. Indeed, throughout the first three quarters, we rarely see anyone play tennis, but rather the lives of the main characters, what really drives them and makes them tick, are the main interest. It's through the lens of this well-known sporting event we see the ingrained chauvinism that existed in this completely foreign time period, making this a social drama just as much as a sports film.
This, however, works in Battle of the Sexes favour, and provides something different and unique for this over-familiar narrative. By not following the conventional beats, it opens it up to a wider audience, and not just for fans of the sport. So even if you don't care for tennis, you can still appreciate this well-crafted plot about an important moment in history for female equality. Furthermore, the directors really go for that Seventies aesthetic, with everything about the cinematography being designed to make it look like it was actually shot and made in that era.
Combined with a retro soundtrack and score, this creates a very old-school feel that pulls you right into this significant historical event, making it that more authentic and visually distinct. Even the tennis games are filmed in a unflashy and old-fashioned manner, showing again, the directors are more concerned with the people than the game itself.
What also helps the film, is the excellent character work, especially that of Stone's Billy Jean King. Stone is able to bring a fierce and steely determination to the tennis champion, where everything she does is driven by her goal to have what every man so easily comes by. To have respect beyond the kitchen and bedroom and be considered an equal in the world of sport when compared to the male athletes. At the same time, she makes sure to add an equal amount of vulnerability to her, where she's learning new things about herself, and the drama of her life outside the court is given just as much attention, if not more, to her life on the court. It's an understated performance, and Stone does a brilliant and skilful job of bringing this real-life figure to the screen.
If there's one weakness, it's that the same amount of time isn't given over to Carell's Bobby Riggs, and apart from a few dramatic and moving scenes involving Elizabeth Shue's long-suffering wife, he comes off more as a caricature than a real person. His gambling addiction is even treated as a joke and not taken very seriously. Although this might just be a realistic presentation of an actual person that existed, when compared to King, his development feels slightly more shallow and not as invested in.
Saying that, he does do splendid work with the material he is given, and proves he's just as adept in hitting those dramatic beats when called for, holding his own alongside Stone's more fleshed-out King. Outside of the main two stars, the film's also elevated by a great supporting cast which include Sarah Silverman's Gladys Heldman, Austin Stowell as King's husband, and Andrea Riseborough as the tennis players hair dresser, who also plays an important part in King's arc.
'Battle of the Sexes is a brilliant sports biopic, that is more than the sum of its parts. With a real-life event to draw from, excellent writing and characterisation, Dayton and Faris have provided a movie that can stand tall against the numerous other sports-based stories out there. By not just focusing on the game itself, this is a film that all can enjoy, and not just tennis fanatics.'
David Axcell
Film Critic
David has quite a broad taste in film which includes big budget blockbusters and small indie films; including International and Arthouse cinema. As long as it's good in that particular genre, he'll watch anything.
This article is copyright owned by Keltar Limited. All rights reserved.
Plagiarism or unauthorised copying is not permitted.
All other copyrights remain the property of their respective owners.