Ant-Man and the Wasp review – a satisfying superhero movie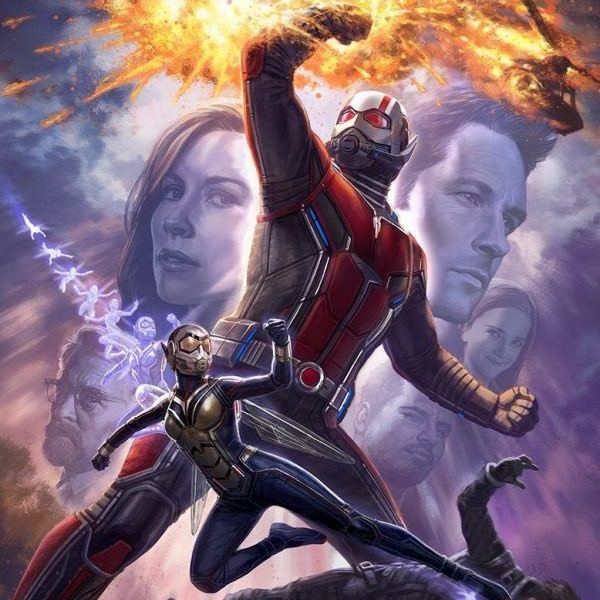 'Scott Lang jeopardises his house arrest to help Hope van Dyne (The Wasp) and Dr. Hank Pym on a dangerous mission into the quantum realm.'
Despite all the behind-the-scenes controversy involving Edgar Wright, the first Ant-Man (2015) was a solid heist film within the MCU. Taking a strange superhero, director Peyton Reed managed to make a funny, entertaining movie about a man who could shrink himself and talk to ants. Offering something different while still adhering to Marvel's winning formula, it was a breath of fresh air. Unsurprisingly, Reed gets to return and fulfil his promise he set-up in the original's mid-credit tease with Ant-Man and the Wasp.
Set two years after the events of Captain America: Civil War (2016), Scott Lang (Paul Rudd) is now under house arrest. When Hank Pym and Hope Van Dyne (Michael Douglas and Evangeline Lilly) discover a way to save wife and mother Janet from the quantum realm, they ask Scott to become the Ant-Man again. This time, Hope joins him with her own suit as the Wasp. Complications arise when a mysterious new enemy called Ghost (Hannah John-Kamen) appears with her own interests.
Although the novelty may have watered down from the first film, Ant-Man and the Wasp is still an enjoyable adventure movie nonetheless.
After the big climax of the MCU in Avengers: Infinity War (2018), this is a solid, self-contained story that simply follows on from the original Ant-Man. Apart from a mid-credit teaser, there's no mention of the other story arcs within this cinematic universe. There's no big world-ending catastrophe that needs to be thwarted, and it's all kept relatively personal and character-centric. This will rightly keep audiences focused on the scaled-down plot, and stop it from becoming overly complicated.
Making the most of the comedic talent behind and in front of the camera, there continues to be an emphasis on humour. It may be at the cost of some of those more dramatic moments, but it fits within that more light-hearted tone Reed is going for. That's not to say it doesn't have an emotional core to latch on to. In fact, it's Hank and Hope's story of reuniting with a long-lost loved one that has some very touching moments. Really it's the whole driving force of the story. For the most part, this is a comedy, and it hits more than it misses in that department. Not all the jokes land, but thanks to the comedic chemistry of the cast, it's a very easy movie to watch and enjoy regardless.
'Concerning the action, Reed ditches that meta approach from the first film.'
Where he played around with the changing scales of the climactic battle between two shrinking individuals. Instead, he delivers more conventional sequences that are driven by and dependent on big-budgeted special effects. Yet to make up for it, he does double down on the shrinking technology, incorporating it well within the various set pieces. A car chase through San Francisco for example, is made more exciting by a van that constantly changes size. Having Ant-Man become giant on a regular basis also adds a different dynamic to these scenes. As always Disney puts the money in to make sure the CGI and green screen is as good as it can be.
All the returning cast effortlessly slot back into their roles and play off one another nicely. Rudd continues to be a great choice as Scott, the reluctant Ant-Man. Brilliant at playing those everyman types, this is exactly who Scott Lang is. He's not motivated to make a name for himself as a superhero, but just wants to be a good father and do right by his friends. It's a very relatable quality. Mostly known as a comedy actor, he also has superb delivery and timing. Interestingly, he shows this with Douglas' Hank, who displays some comedic chops of his own with some smartly placed one-liners.
Stepping up to the plate from supporting cast member to co-lead, Lilly makes a worthy partner to Rudd's Ant-Man.
They have a good chemistry, and although there's a romantic element to their relationship, that's not her sole purpose for being in the film. She has her own agenda and mission and is not purely a love interest. Regrettably, it's the bland and boring antagonists who let the movie down the most. Walton Goggins puts in the effort, but is serviceable at most as a black market dealer who wants Hanks technology to sell. John-Kamen also gives a good performance, yet as a character, feels like she's there to dump exposition and bring in someone super powered for the heroes to fight against.
'Ant-Man and the Wasp is a fun and entertaining movie to enjoy for a couple of hours. A light and breezy affair, Reed asks nothing more from the audience than to just enjoy the ride. Even with the MCU's common villain problem, with well-executed action and good comedy, it's a satisfying superhero film.'
Film Details
12 · 1h 58m · 2018.
Genre
Action · Adventure · Sci-Fi · Superhero.
Cast
Evangeline Lilly · Hannah John-Kamen · Michael Douglas · Paul Rudd · Walton Goggins.
Director
Peyton Reed.
Writers
Andrew Barrer · Chris McKenna · Erik Sommers · Gabriel Ferrari · Paul Rudd.
Based on the Marvel comics by
Jack Kirby · Larry Lieber · Stan Lee.
Cinematography
Dante Spinotti.
Editing
Craig Wood · Dan Lebental.
Music
Christophe Beck.
Contains
moderate violence.
David Axcell
Film Critic
David has quite a broad taste in film which includes big budget blockbusters and small indie films; including International and Arthouse cinema. As long as it's good in that particular genre, he'll watch anything.
This article is copyright owned by Keltar Limited. All rights reserved.
Plagiarism or unauthorised copying is not permitted.
All other copyrights remain the property of their respective owners.