Annabelle: Creation review – a nerve-shredding horror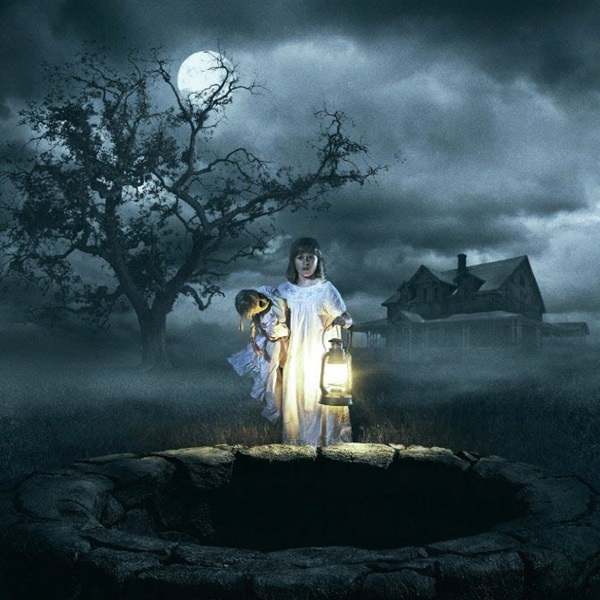 'A dollmaker and his wife welcome a nun and several orphans into their home where they soon become the target of possessed doll.'
A year ago Mike Flanagan took a terrible horror film and had the ingenious idea of doing a prequel follow-up in the form of Ouija: Origin of Evil (2016), which ended up being a far more successful movie than its predecessor. David F. Sandberg is now following suit with Annabelle: Creation, and it's not terribly hard to see why. After Annabelle (2014) was poorly received, which itself was a spin-off of The Conjuring (2013), going back to the beginning is a solid way of scrapping what didn't work the first time round and starting again afresh. It also doesn't hurt having the director of Lights Out (2016), one of the better scary movies to come out last year, at the helm.
Set in 1955, doll maker Samuel Mullins and his wife Esther (Anthony LaPaglia, and Miranda Otto) open up their farmhouse as an orphanage for a group of young girls, including their carer, Sister Charlotte (Stephanie Sigman). At first, the children enjoy the big house and the wide open space, but one night Polio inflicted Janice (Talitha Bateman) is lured into a locked room where she discovers a strange doll which seemingly has a mind of its own. Soon after, a dark presence begins tormenting her and best friend Linda (Lulu Wilson), and secrets are unearthed involving the Mullins' daughter Annabelle, who died twelve years ago.
To begin with, Annabelle: Creation is clearly a marked improvement from the first film. Screenwriter Gary Dauberman has wrote a script that smartly allows this film to stand on its own, and present a origin story for the infamous toy that doesn't require any background knowledge of the previous films. In fact, apart from a couple of minutes towards the end and a post credits scene, there's no connecting references or obvious indication that what we're watching is anything more than a solid, one-off scary movie.
By separating the story as much as possible from the original, Sandberg is able to start from scratch, building a new mythology with a different set of characters, and take full advantage of that creative freedom. Indeed, he no longer has to adhere to the constraints of coming into an established franchise, or even a traditional prequel.
As proved with Lights out (2016), Sandberg is also skilled in bringing the thrills, and using everything at his disposal to make an extremely terrifying movie. One might argue it's just a series of jump scares that escalate as the film progresses, and full of the conventional horror troupes we've come to expect from today's contemporary horror film. there is some truth in that, especially when it comes to the characters going into rooms and places no right-minded person would, or doing silly things that someone with the most basic of common sense would question.
Nonetheless, it's the effectiveness and skill in which Sandberg directs that help the film rise above these commonly used techniques. The way he holds the tension and builds up suspense before a shock is expertly done, and combined with good cinematography, including lighting and sound design, there's no denying your nerves will be shredded by the end. There's nothing more unnerving than that doll, and it beggars belief why anyone would want such a thing in their house.
Where the film does falter is in its over crammed cast. Surprisingly for a horror film, there's a lot of characters squeezed in, and as a result, not everyone gets the time to feel fully formed. This is basically a haunted house film, where a lot of the older girls are just there to fill out the orphanage and to be basic scary movie cannon fodder. The adults like LaPaglia and Otto are good for their limited material but are also under used.
Thankfully Bateman and Wilson happily make up for the lack of depth in the other characters. They both show excellence when it comes to displaying real terror in their faces, which can be a put-off when poorly done. They present an authentic and convincing friendship you'll bye into, making it that more tragic when things really go south in the third act. It's not that surprising, particularly for Wilson, who finds herself in the third horror film in the last few years, proving herself a true scream queen in the making.
'Annabelle: Creation is a solid entry in what is quickly becoming another extended universe based around The Conjuring films. What it lacks in originality, Sandberg more than makes up for it with skill and precision, and by making sure as a scary movie, it does its job of terrorizing the audience. Not only that, but as a prequel, it allows us to enjoy the film on its own, without having to watch the inferior 2014 original. If anything, it will certainly convince you to get rid of any dolls you might have lying around in your house.'
David Axcell
Film Critic
David has quite a broad taste in film which includes big budget blockbusters and small indie films; including International and Arthouse cinema. As long as it's good in that particular genre, he'll watch anything.
This article is copyright owned by Keltar Limited. All rights reserved.
Plagiarism or unauthorised copying is not permitted.
All other copyrights remain the property of their respective owners.